Subscribe To Our Magazines
Featured Properties & Businesses
EXPRESSIONS OF INTEREST – CLOSING ON 8 DECEMBER 2023 This Newsagency Business is located in a local shopping centre in Logan, Queensland. With Administrators appointed, the business must be sold by the end of December. BUSINESS HIGHLIGHTS: Golden Casket Licence is available for transfer (subject to approvals) Golden Casket Commissions earned between 1 July 2022 …
ADMINISTRATORS APPOINTED – Newsagency – Logan, QLD Read More »
EXPRESSIONS OF INTEREST – CLOSING ON 8 DECEMBER 2023 This Newsagency Business is located in a local shopping centre in Logan, Queensland. With Administrators appointed, the business must be sold by the end of December. BUSINESS HIGHLIGHTS: Golden Casket Licence is available for transfer (subject to approvals) Golden Casket Commissions earned between 1 July 2022 …
ADMINISTRATORS APPOINTED – Newsagency – Logan, QLD Read More »
Coast to Coast Business Sales is an Australian-owned publication and is an affiliate of Xclusive Business Sales. 
We are Australia's longest running magazine for advertising the sale of Australian Businesses and income-producing properties with over 45 years experience.
Whether you need better exposure for your business sale, buyer help with your franchise or broker assistance and support, we are here to help you sell your business.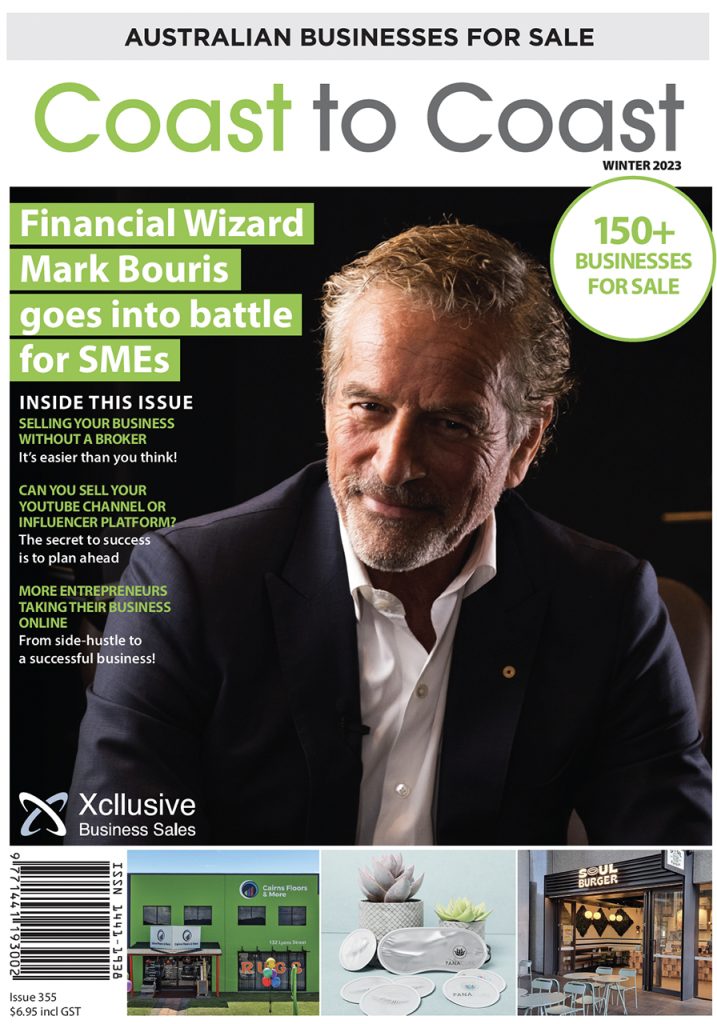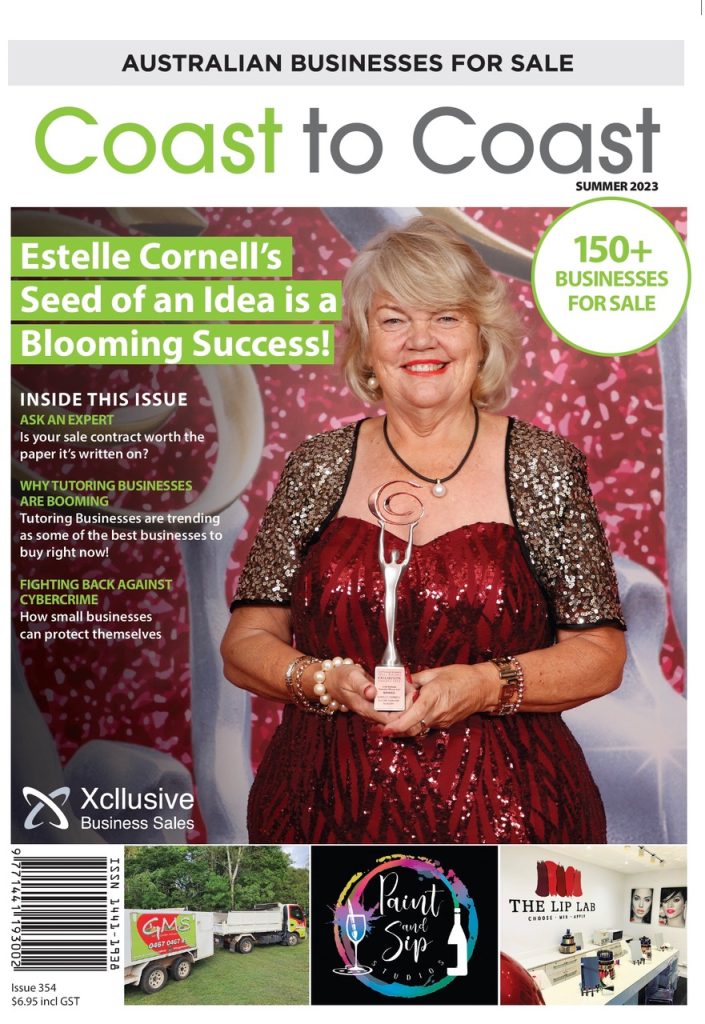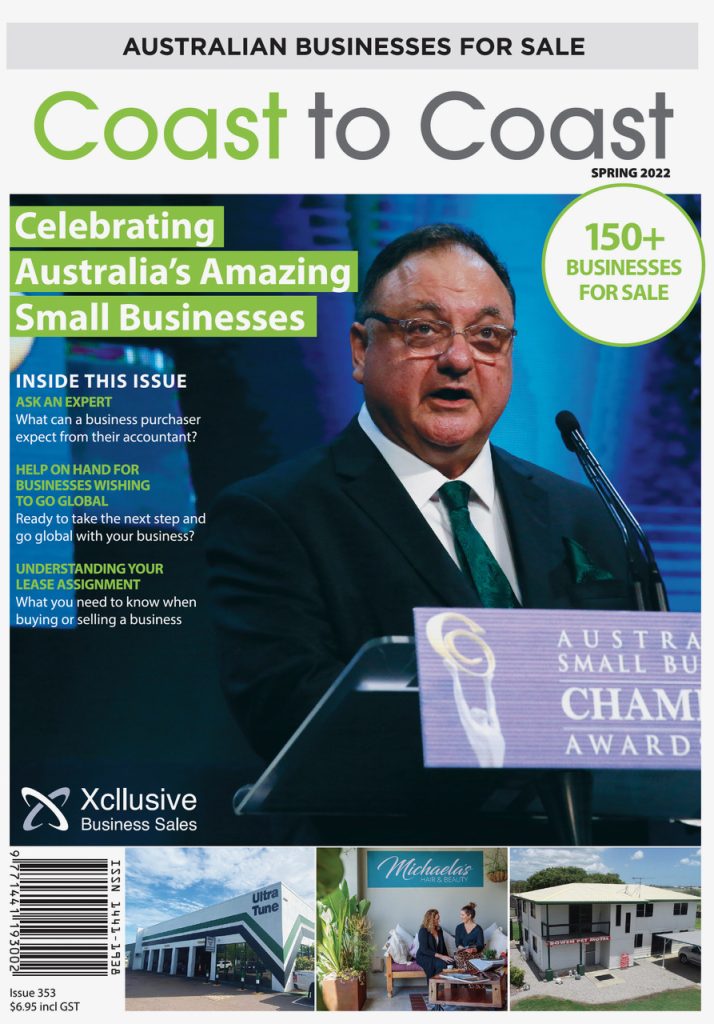 For most people, BUYING or SELLING a business is the riskiest thing they will ever do
At the very least, it's probably your biggest asset; it is also something into which you will invest the most time and money.
That's why you need to get it right!
Hosted by Zoran Sarabaca and brought to you by Xcllusive Business Sales, this is the podcast for anyone involved in the buying and selling of businesses who wants to know how to get it right!
"Coast to Coast were very helpful when other brokers were out of my price bracket to sell my small business. They were quick to respond to any of my queries and made the process very simple."
"Great method of advertising my business in a wide range of places and got a substantial amount on good quality leads that lead to a successful sale above my expected price."
"It was nice to engage you guys to sell my business. It was very pleasant to work with you. Shrey was helpful and supportive all the way through to sales process. The whole sales process was smooth, in a timely manner and the business got sold within 4 months which is great. Charges and marketing fees were very reasonable and affordable. It was nice to work with you."
"The cafe has now been sold, as of today. We tried several ways of selling the cafe but your Magazine had the most enquiries of them all, so thank you Coast to Coast and all the team there."
"The salon has now sold, and the purchasers found it on Seek and BusinessforSale. Excellent professional service sold it in just over a week!"
"I would like to take the opportunity to thank you guys for all you've done to help us try and sell our business. I was very impressed with your service."
"Just wanted to let you know the sale has gone through and funds received in full!! Thank you so much for assisting us with this. We wouldn't have done it so quickly without you."
"Working with Coast for Coast for the sale of our business was very straight forward. Their team was knowledgeable, professional, and dedicated to ensuring a smooth and successful transaction."
Coast to Coast was good value and effective for selling my business. Plenty of leads were generated and I appreciated the prompt and helpful support from the backend team when I needed to update or change ads. Highly recommend.
"Just a quick note to thank you and the other staff for your assistance in getting our ad in the latest edition. Gerry and I have been very impressed with the level of service and attention to detail. We received our copy today and everything you promised has been done – well done and keep up the good work! We did some advertising for our other business about 4 months ago in a Tasmanian publication and we are getting at least one call a week from the company inviting us to advertise again. We have yet to see a copy of the ad and editorial they were doing for us in the publication which came out 3 months ago! Every single person who calls promises to get a copy to us and still nothing happens. We've told them there is no chance of our business until they can fulfil on the past promises. Still waiting!! You can see why we're so impressed with you guys – many thanks!"
"We advertised our 'home/web based business' four times over the course of six months with the Coast to Coast Business Advertiser. Which ended in a great result and we saved ourselves thousands in brokerage fees and couldn't be happier. We are now enjoying retirement!"
"I owned a café in a small town that was struggling to stay afloat. After months of spending thousands in my local newspaper to try to sell my business – I realised the same people were seeing it for sale week after week, month after month so I decided to look for something that took my advertising dollar further afield. I discovered Coast to Coast in my local newsagency, called them the next day and had an advertising campaign worked out in a matter of minutes. For the first time, my business was being seen by interstate buyers and that is exactly who ended up buying it. I never knew Coast to Coast existed so now I tell everyone about it, so much so, I'm about to advertise one of my properties with them. It saved me not only money but my sanity as well! Thanks team, what a great product!"